- Student Testimonials -
Naz
"I was introduced to Philippa through a friend about 4 years ago and since then, Philippa has taught my daughter piano from the age of 5. I sit in on every lesson and see first-hand how wonderfully patient Philippa is. Her style of teaching is phenomenal and she engages brilliantly with my daughter and as a result she gets the best out of her. My daughter has grown in confidence now and is very much flourishing with her piano. Both my daughter and I think very highly of Philippa and she has a very close bond with my daughter. I have found Philippa to be very down to earth and professional. Her attention to detail is amazing and she strives for my daughter to attain perfection which is an impressive skill. As a result my daughter has achieved nothing but distinctions so far. I undertake an 80 mile round trip every week to Yorkshire so that Philippa can continue to teach my daughter because quite frankly, my daughter would not have it any other way. Philippa is a gifted teacher and my daughter's achievements are a testament of that."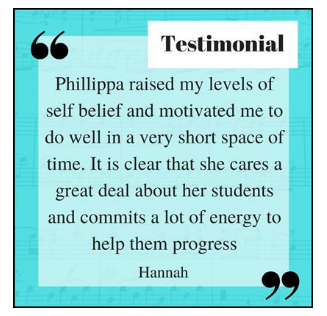 Hannah
"I came to Phillippa just a few weeks before I sat my grade 5 theory exam again after failing it the first time. I was incredibly unconfident but within several weeks I had greatly improved and achieved a distinction in my exam, losing only five marks overall. Phillippa raised my levels of self belief and motivated me to do well in a very short space of time. It is clear that she cares a great deal about her students and commits a lot of energy to help them progress. Since passing Grade 5 Music Theory, we have been working towards Grade 8 Singing and I continue to improve week by week and learn something new every lesson."
Rachael
"I would highly recommend Phillippa for singing lessons. Phillippa teaches my two daughters and is highly skilled, patient, professional and affirming with regard to their individual needs and will tailor make your lessons to help you achieve your goals. It's the highlight of my daughters' week. My girls are very different and yet both say how much they love learning with Phillippa, they have "come on leaps and bounds" even after only a few a lessons we could see a massive difference in their confidence and attitude. If you are considering lessons with Phillippa, DO IT ! You will not be disappointed and will make a wonderful friend in the process."
Kristen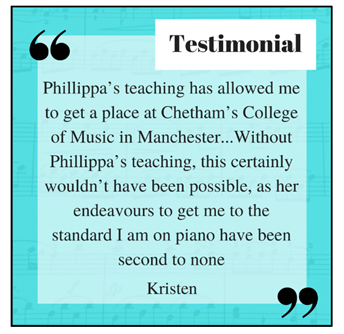 "I have been studying piano with Phillippa for 9 months now. I had no previous experience of playing, but within that time Phillippa's tutoring has allowed me to achieve a Distinction at ABRSM Grade 2, achieving a mark of 143 out of 150! I will be sitting Grade 3 next month- which just shows how much progress I have made from Phillippa's lessons. Her teaching is very clearly structured, and I am never confused by what she asks me to do during lesson, and what to do over the week when I am working by myself. Phillippa's teaching has allowed me to get a place at Chetham's College of Music in Manchester, which is widely regarded as one of the best music schools in the country. Without Phillippa's teaching, this certainly wouldn't have been possible, as her endeavours to get me to the standard I am on piano have been second to none. I have highly enjoyed the 9 months of lessons I have had with Phillippa and look forward to progressing further."
Andrea
"I began piano lessons as a total beginner with Phillippa in 2011. I took my grade 6 in 2017 and we're now working towards grade 7. Lessons are well structured to make the most of the hour. We always cover so much and I feel that I learn something new each time. Lessons never feel pressured or tense, rather enjoyable and fun. Every lesson, Phillippa notes what we've worked on and gives me goals for the following week. This helps to keep my practice time between lessons productive and goal-oriented. Phillippa is very encouraging and positive, even when I'm struggling and messing up. I can't believe how far I've come in just a few years. I'm now able to play the kind of music I love to listen to and my understanding and appreciation of music has grown with my learning of the skills of playing."
Rebecca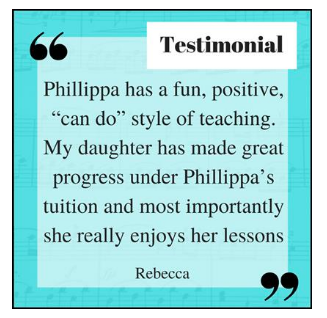 "Phillippa has been giving singing lessons to my daughter for over a year. My daughter gained a merit in her grade 1 ABRSM singing exam and is now working towards her grade 2 exam. Phillippa is a classically trained musician and is an excellent teacher of both singing technique and musical theory. Phillippa has a fun, positive, "can do" style of teaching. My daughter has made great progress under Phillippa's tuition and most importantly she really enjoys her lessons."
Clare
"My daughter Lucy has been a pupil of Ms Cairns for less than a year, and her progress has been astounding. She went straight into Grade 6 and passed with a merit, she is now about to take her Grade 8 exam. Not only has her singing improved but her theory of music has also developed at a rapid rate. She continually impresses everybody who hears her singing, and has recently performed at Her Majesty's Theatre in the West End"
Ann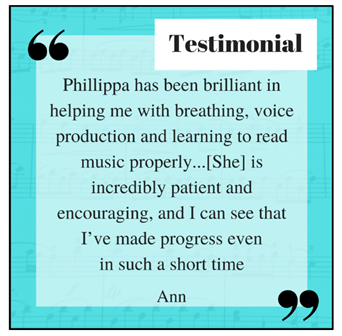 "I've been having singing lessons with Phillippa since summer 2017. I sing as a hobby with a large choral society and want to improve my basic vocal technique and sight reading ability. Phillippa has been brilliant in helping me with breathing, voice production and learning to read music properly. Lessons are good fun, and I really look forward to them. Phillippa is incredibly patient and encouraging, and I can see that I've made progress even in such a short time."
Sharyn
"I've been with Philippa for nearly a year. Suffering from anxiety and depression, I have found her a good listener, dedicated, dilligent, honest, very calming but firm teacher. She has an amazing ability to get the best out of my voice and knows exactly what I was doing wrong when singing. I am already doing grade 7 singing despite never having done grading before- it gives me a focus to encourage and learn a diversity of songs, singing techniques and how to express them though acting. She has made me more confident- I have recently got a principal role in a musical! I would recommend her to anyone of any age. She is an amazing teacher with lots of enthusiasm, passion and is totally dedicated to her students."