Welcome Information for One to One Students
Wednesday, November 2, 2022 | Uncategorized
Hello and welcome to our PJC Family! We're so looking forward to meeting you at your upcoming lesson.
Please read the information below before you arrive to the first lesson. If you have any questions not answered in the information below, then please do not hesitate to get in touch.
Phillippa and Team ♪
Terms and Conditions


Please sign the terms and conditions before your first lesson. Please click this link to be directed to the form.

Using the Calendar

You should have already received an email to set up your password for our online portal.
You should be able to see your lessons on the calendar once you sign in. If you can not attend any lesson, you must cancel your lesson via the calendar with at least 24 notice. Lessons cancelled via text or email, or within 24 hours notice will be charged at the full amount.
If you wish to rearrange your lesson time on any particular week please discuss this with your teacher.
Venue Information
PJC Music School, 36 Kirk Lane, Yeadon, LS19 7ET

We ask you to please park considerately, being respectful of our neighbours.
The pavement directly outside of the building should be used for drop offs and pick ups only, not for parking.
Equipment

Your teacher will be in touch with you directly before your lesson to discuss what you should be bringing to your first lesson.
Again, please do get in touch if there are any questions not answered above or if you need support with using the online portal.
Many thanks, and see you soon!
Phillippa and Team ♪
Using the Practice Log
Thursday, June 2, 2022 | Uncategorized
The Practice Log is an added benefit, there to support you and your child should you wish. There is no obligation to use it! ❤️
You can access the Practice Log via our online portal, using the sidebar once you've logged into the home page.
Please see below for a quick explanation on how to use the practice log in conjunction with the Practice Champion Rewards Scheme.
Thanks, Phillippa 🎶
The PJC Intermediates Programme
Thursday, June 17, 2021 | Uncategorized
Our PJC Intermediate Programme is the next level up after completing the Young Beginners Programme.
They are 90 minute lessons open to students studying ABRSM Grades, Initial Grade to Grade 5.
Each lesson consists of specific sections:
| | |
| --- | --- |
| Singing and Aural Practice | 15 minutes |
| Piano Pieces | 20 minutes |
| Sight Reading | 10 minutes |
| Scales and Arpeggios | 10 minutes |
| Music Theory | 20 minutes |
| Composer Time | 10 minutes |
| Handover | 5 minutes |
Music Theory
The Intermediates Programme will allow our students to take their ABRSM Music Theory Exams. All students will need to take Grade 5 Theory by the end of their Intermediates Programme, as ABRSM does not allow anyone to take Grade 6 unless they have already taken Grade 5 Theory. Once our students have completed the Intermediates Course, and have reached Grade 4 on Piano and/or Voice, AND Grade 5 Music Theory, they can progress to a PJC Advanced Programme, where in addition to Grade 5-8 on Piano and/or Voice, we will offer an additional extra of taking GCSE and then A level Music should they wish.
Singing and Aural
The singing part of each lesson will allow students to reinforce their music theory, working holistically together as we did in the Young Beginners Programme, understanding scales, keys, chords, arpeggios, triads and much more. Any student who wishes to take Grade 1 and above in their singing exam will have the opportunity to work on repertoire, technique, tone and performance skills. All students will learn sight singing (even students who don't wish to take singing grades) as it features in the Aural part of the Piano Exam from Grade 4 and above. This part of each lesson will also give an opportunity for regular practice of the other skills that will be examined in their Aural tests such as singing echos and analysing music.
Composer Time
Now our students have reached Grade Initial-4 on the Piano, I will be able to give more demanding and exciting challenges in relation to each composer, and more importantly connect the context of each composer in time, period, style and genre, building up a wealth of knowledge which will help them with their Grade 5-8 Aural Exam, and any GCSEs or A level Music they may go on to take in the future.
Piano Pieces, Sight Reading and Scales/Arpeggios
These will have focused set times each lesson, ensuring our students continue to make incredible progress consistently.
Fees
The Intermediates Programme is £110 per month for a 90 minute lesson per week.
Logistics
If your child has reached Initial Grade and wishes to move up to our Intermediates Programme, please get in touch and we will find the best class for them, keeping as close as possible time to their original lesson time. Students are welcome to stay in the Young Beginners Programme until they pass their Initial Grade, in which case they will need to move up to the Intermediates Programme to start Grade 1.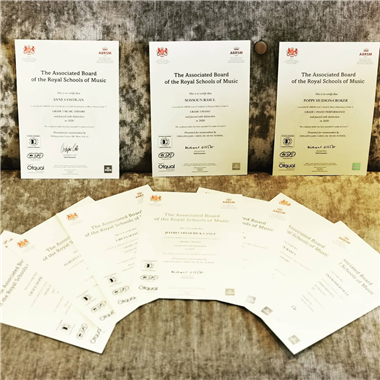 The most recent ABRSM exam certificates from some of our Intermediate students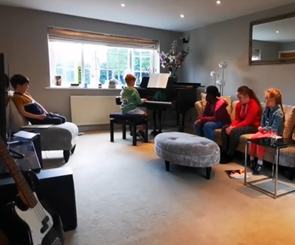 A mini recital during an Intermediates Lesson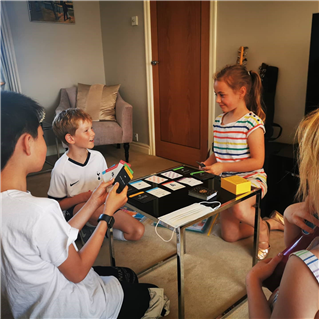 An Intermediates Group enjoying a Music Theory Game together.
As always, if you have any questions at all regarding the Intermediates Programme, please don't hesitate to get in touch. ❤️🎹🎤
Phillippa 🎶